Byron Lakeside is perfectly positioned to give easy access to numerous beaches, weekend markets, national parks, the golf course and the surrounding hinterland.
We are at 5 Old Bangalow Road, Byron Bay – just off Bangalow Road behind the local favourite Roadhouse Byron Bay and just south of the new South Jonson shopping and hospitality precinct.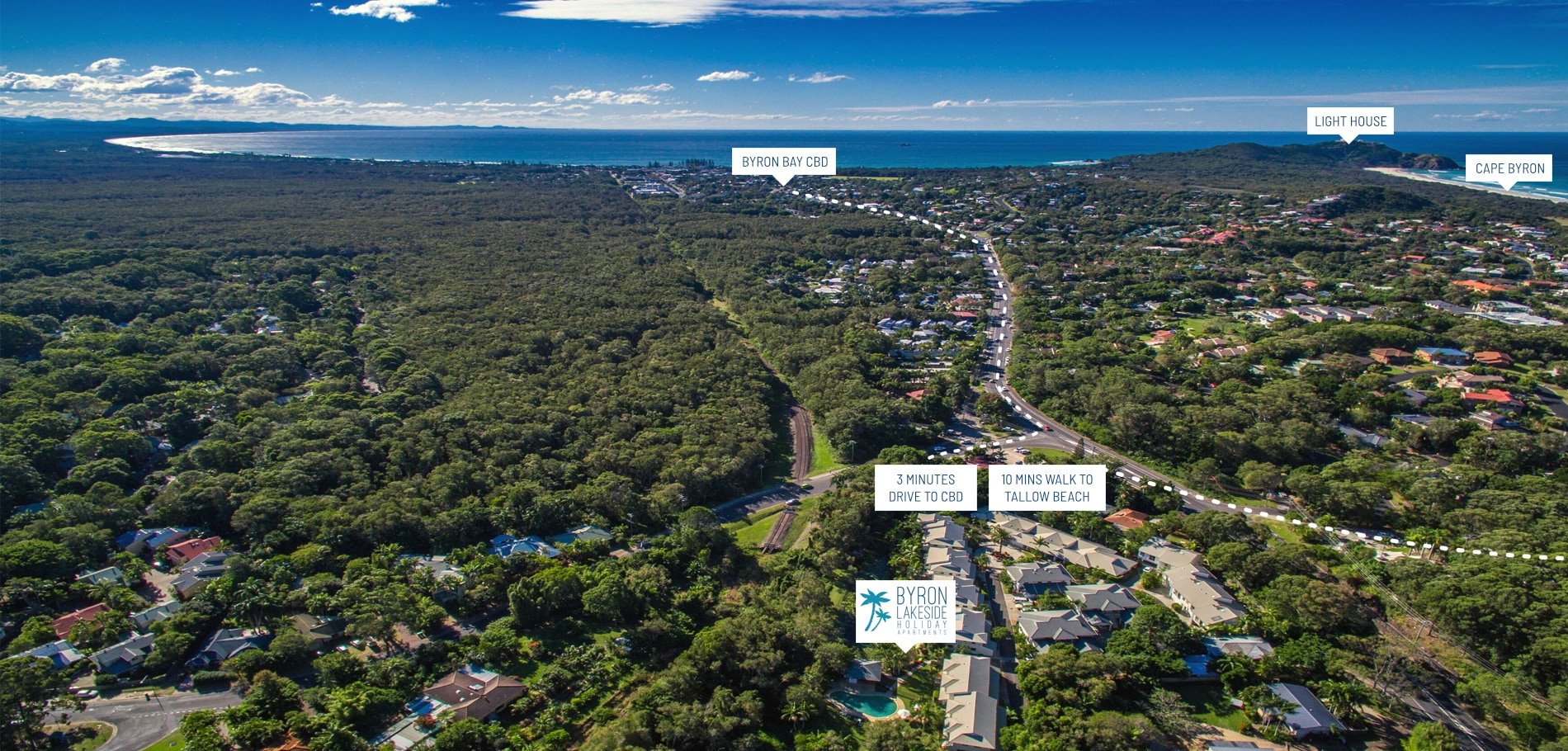 Located just off the Pacific Highway, Byron Bay is 800kms north of Sydney, 175kms south of Brisbane. There are airports in Ballina (30 mins south) or Coolangatta (60 mins north) and the area is serviced daily with a wide range of buses and train options.
Cape Byron and Byron Bay is Australia's most easterly point, 153° 39´ east, positioned on the beautiful north coast of New South Wales.
Summer temperatures sit around 28 degrees during the day and winter temperatures are about 21 degrees. This means it has perfect weather year round to enjoy the many outdoor activities and festivals in Byron Bay.
Byron Shire has a population of close to 30,000, and the town of Byron Bay has a population of about 9,000, offering warm, friendly country-style hospitality to its many regular repeat holiday makers.
"We were super happy won our accommodation. The lakeside apartments were spacious, clean, modern with great facilities and excellent beds! The grounds were lovely, with lots of greenery and all very tidy. Hosts were really friendly and accommodating. The location was awesome with a brilliant cafe/restaurant The Roadhouse just next door and Tallows beach a 10 minutes walk which was magic."
"We had a three bedroom, self contained apartment. Clean, spacious and modern. The pool area is lovely, with BBQ facilities for all to use. The beach is a quite a hike, 20 min walk. The town is 5 minute drive, which makes this the perfect spot for families ro hang out. Very quite complex, with hosts very helpful."
"We were really impressed with the accommodation here. We stayed in a three bedroom 'apartment', but, actually, it was a proper townhouse, with an attached garage for the car! It was beautifully decorated in a contemporary style and meticulously clean. The verandah overlooked the lake and it was magical to wake up in the mornings and watch the birds pottering about."
"The Byron Lakeside Holiday Apartments is impressive. The rooms are spotless and the facilities are first-class. The younger set will enjoy the pool. The mix of residents varies with the season. In summer, most guests are short term occupants. It's a bit out of town (in relative terms) but as we have a car (like just about everybody else) it's only a quibble."
"An amazing place to stay!! Great location and not far from town. The apartments were extremely clean and had everything you could want in a home away from home. The pool area was a stand out for the kids (even in the middle of winter)."
We offer the choice of one, two or three bedroom apartments for short term accommodation close to the beaches and attractions of Byron Bay. All two and three bedroom townhouse units have en suite bathrooms for the main bedrooms and a second bathroom with full size baths.
Byron Lakeside holiday units include private laundry facilities and large kitchens with stainless steel appliances, infra-red cooktops, dishwasher and microwave.